Special thanks to Eladkse from the Casualty Wiki for the foundations of the codes. Cheers mate!
With the inception of project palaeontology, we here at Prehistoric Park Wiki have decided to release a custom skin for users of the Oasis skin as we feel that the skin is way to restrictive.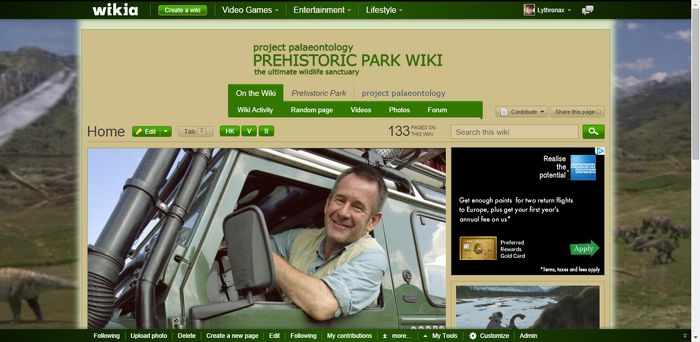 Since public installation of this custom skin is disallowed by Wikia's Terms of Use, we cannot apply this theme automatically when you access the site. You can only view this skin by installing it onto your personal CSS and JS pages.
Installing the theme
To install this skin, you will need two pieces of code.
The first piece is the CSS. Since importing it will make it buggy, you will need to copy the code at MediaWiki:CustomOasis.css. You then need to put all of the code in your personal wikia.css here:
The second piece is a js import, which you need to put in you personal wikia.js here:
  importScriptPage('MediaWiki:CustomOasis.js', 'prehistoricpark');

Bugs and comments
Wikia is changing all the time, and we had to put some code into Oasis to make this skin work. Therefore, if you do spot an issue with either skin, please alert an admin or leave a comment below.
Ad blocker interference detected!
Wikia is a free-to-use site that makes money from advertising. We have a modified experience for viewers using ad blockers

Wikia is not accessible if you've made further modifications. Remove the custom ad blocker rule(s) and the page will load as expected.